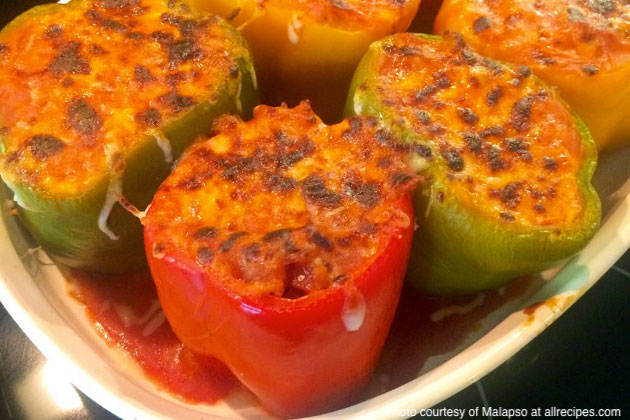 18 Aug Delicious Chorizo-Stuffed Bell Peppers for Your Next Dinner!
Recipe and photo courtesy of Malapso of AllRecipes.com.
If you're craving more flavor for your next family dinner, then we have the perfect appetizer for you! This chorizo-stuffed bell pepper recipe from Malapso of AllRecipes.com adds the natural spiciness of bell peppers with the zest of our pork chorizo, creating an explosion of flavor! For this recipe, we substituted in our own delectable pork chorizo. We hope you enjoy this delicious appetizer! 
Preparation time:
40 minutes
Cooking time:
1 hour
Serving size:
6 stuffed bell peppers
Ingredients
1 pack of our pork chorizo
6 medium bell peppers with the tops cut off and seeds removed
1 stalk of minced celery
1 chopped carrot
½ cup of chopped onion
4 cloves of minced garlic
1 pinch of salt and pepper
1 large peeled and chopped tomato
1 tbsp. of Worcestershire sauce
1 bunch of freshly minced parsley
1 bunch of freshly chopped basil
½ cup of uncooked, long-grain rice
1/3 cup of shredded Monterey Jack cheese
1/3 cup of shredded cheddar cheese
1/3 cup of shredded Mozzarella cheese
1 10 oz. can of tomato soup
Directions
Preheat your oven to 350°F.
Fill a large pot halfway with water and bring to a boil.
Place the bell peppers in the pot and cook for 5 minutes.
When done, remove the bell peppers and set aside.
In a large pan, cook the chorizo for 5 to 7 minutes or until browned.
When done, drain the excess grease and add the celery, carrots, onions, and garlic.
Cook the mix for 5 minutes or until the veggies soften.
Add the peeled tomatoes, Worcestershire sauce, parsley, basil, rice, some water, salt, and pepper. Cover the pan and simmer until the rice is done.
Remove the pan from the heat and mix in all cheeses.
Place the bell peppers upright on a baking sheet and stuff each with the chorizo mix. Sprinkle any excess cheese on top.
In a small bowl, combine the tomato soup with enough water to turn the soup into a gravy. Generously pour over the peppers.
Cover the stuffed bell peppers with aluminum foil, place in the oven, and bake for 30 minutes.
Remove and let the bell peppers sit for 2 to 3 minutes before serving.
Try this recipe out and tag us on Facebook, Twitter, and Instagram to let us know how it is! Try our other recipes and wonderful products for your next dinner as well!