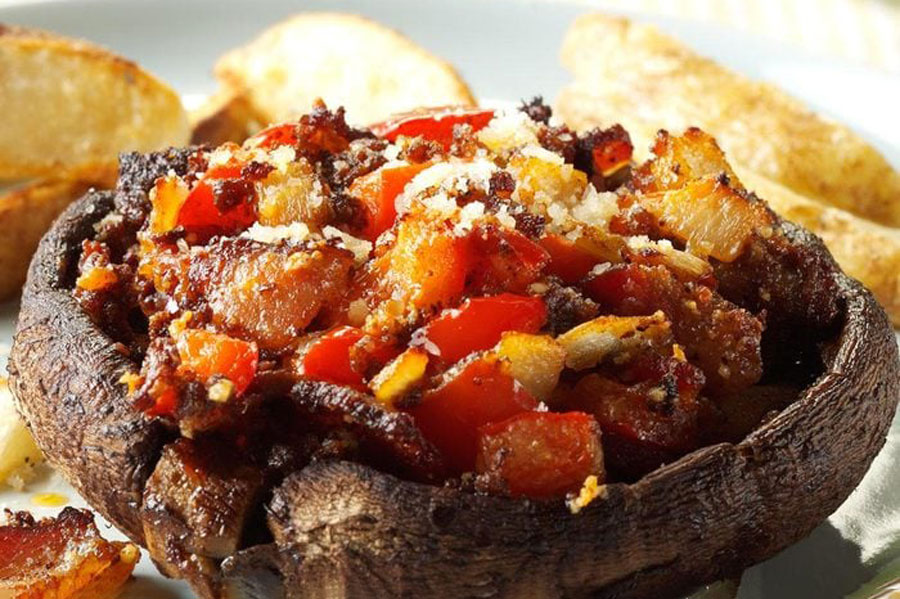 17 Aug

15 Minute Stuffed Mexican Chorizo Portobello Mushrooms!

Photo and recipe courtesy of Taste of Home.

Need a filling appetizer or a healthier lunch option? Try out cedar-plank stuffed Mexican chorizo portobello mushrooms. This recipe is not only a savory and meaty dish, but by adding your favorite chorizo, it could end up being another classic to your dinner menu! We would like to thank the creative chefs at Taste of Home for coming up with this recipe.
Prep Time
30 Minutes
Cook Time
15 Minutes
Servings
6
Ingredients
6 cedar grilling planks
10 bacon strips, diced
2 garlic cloves, minced
1/8 teaspoon cayenne pepper
1 medium onion, finely chopped
1/2 cup grated Parmesan cheese
1/4 teaspoon crushed red pepper flakes
1 large sweet red pepper, finely chopped
6 large portobello mushrooms (4 to 4-1/2 inches)
1/2 pound if Mexican chorizo or bulk spicy pork sausage
Substitute with our Mexican chorizo, cilantro sausage, or our jalapeño and cheese sausage.
Directions
Soak planks in water for at least 1 hour.

 

In a large skillet, cook chorizo and bacon over medium heat for 10-12 minutes or until chorizo is fully cooked and bacon is crisp.

 

Remove with a slotted spoon; drain on paper towels. Discard drippings, reserving 1 tablespoon in the pan.
Add pepper and onion to drippings; cook and stir over medium-high heat for 3-4 minutes or until tender.

 

Add garlic, pepper flakes, and cayenne; cook 30 seconds longer.

 

In a large bowl, combine meat mixture, vegetable mixture, and cheese; set aside.
Remove and discard stems from mushrooms; with a spoon, scrape and remove gills. Fill caps with meat mixture.
Place planks on the grill rack over direct medium heat.

 

Cover and heat for 3-4 minutes or until light to medium smoke comes from the plank and the wood begins to crackle. (This indicates the plank is ready.)

 

Turn planks over; place mushroom caps on planks. Grill, covered, over medium heat for 8-10 minutes or until mushrooms are tender.
Try These Chorizo Portobello Mushrooms!
Check out all sorts of amazing and tasty recipes that all your family will love and enjoy! Our Mexican chorizo is the perfect topping in any meal.  
Show us some of your culinary favorites on our Instagram and Facebook!