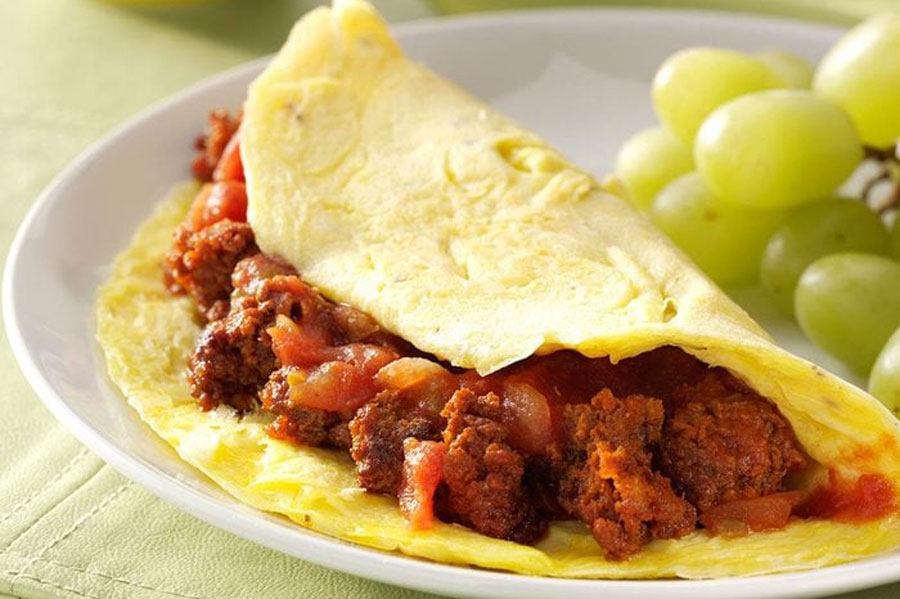 29 Sep Try this Mouthwatering Chorizo Omelet Recipe!
Photo and recipe courtesy of Taste of Home.
Nothing fits morning breakfasts more than a classic omelet, but you can switch up the flavor of your morning eggs, and make a spicy salsa chorizo omelet recipe! All it takes is a few ingredients to make this great and easy breakfast item! Just crack a few eggs and bring out your favorite Mexican chorizo flavor and you'll have an amazing to start your morning! We want to thank the chefs at Taste of Home for this recipe!
Preparation time
10 mins
Cooking time
20 mins
Servings
1
Ingredients
3 eggs
1/8 teaspoon salt
1 tablespoon butter
3 tablespoons water
1/8 teaspoon pepper
2 tablespoons chunky salsa
1/4 cup cooked Mexican chorizo or sausage
Directions
In a small nonstick skillet, melt butter over medium-high heat. 
Whisk the eggs, water, salt and pepper. 
Add egg mixture to skillet (mixture should set immediately at edges).
As eggs set, push cooked edges toward the center, letting uncooked portion flow underneath. 
When the eggs are set, spoon chorizo and salsa on one side; fold the other side over the filling. Slide the omelet onto a plate.
 
Check out our Mexican Chorizo
You can try all of our chorizo flavors when you order chorizo online! Remember to grab a few cuts of your favorite steak and have them on hand for the holidays! Try
Beef chorizo
Pork chorizo
Chicken chorizo
San Luis chorizo
Find More Recipes like this Chorizo Omelet Recipe!
Chorizo de San Manuel has all kinds of recipes to choose from, so don't delay and check out all sorts of unique and tasty recipes that all your family will love and enjoy! check out more recipes online!