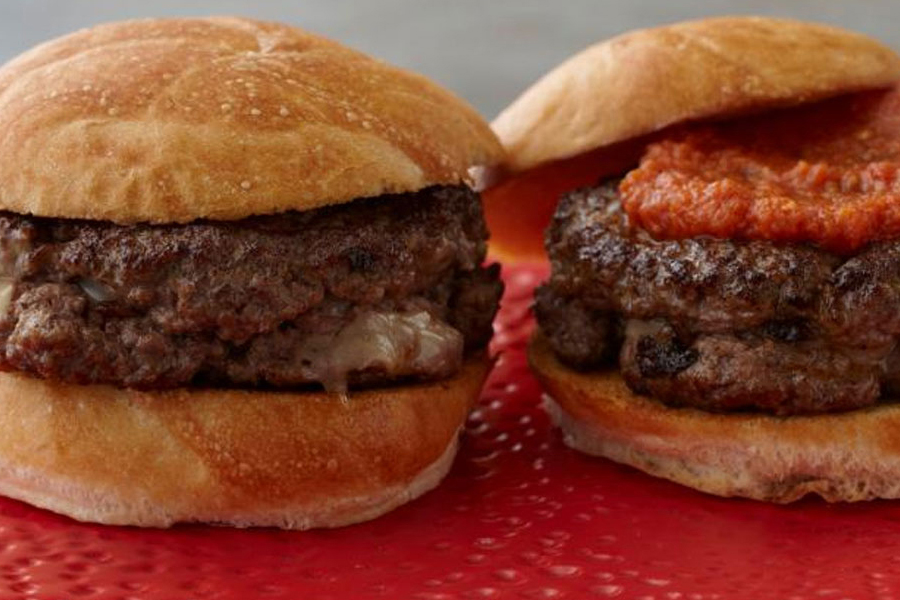 17 Jan Killer Inside Out Pork Chorizo Burgers
Recipe courtesy of Guy Fieri.
If you like burgers with plenty of flavors, then the ones we'll be presenting to you in this recipe by Guy Fieri will blow you away! Packed with bacon, caramelized onions, and pork chorizo (we've included our Guerra's Brand chorizo), these mouth-watering burgers will leave you wanting more! Plus, if you want to add an extra zing, the recipe for Guy's Worcestershire tomato ketchup is here, too!
Preparation time: 20 minutes
Cooking time: 20 minutes
Total time: 40 minutes
Serves: 4
Ingredients for the Burgers:
¼ lb. chopped bacon
½ cup of minced red onions
3 tbsp. of Chorizo de San Manuel's Pork chorizo
½ tsp. of salt
½ tsp. of freshly ground pepper
2 lbs. of ground chuck beef (80% lean, 20% fat mix)
½ lb. of swiss cheese thinly sliced, about 8 slices
4 Kaiser rolls, split and roasted
Directions:
In a medium-sized pan over medium-to-high heat, cook the bacon but make sure it isn't too crisp. Also, cook the onions.
Add the pork chorizo, once cooked, place the mix onto a paper towel-lined plate to drain excess grease.
Divide the ground beef into 8 equal portions and roll them into loose balls to create 4-inch patties.
Add a layer of cheese onto the center of each patty and then top with ¼ pork chorizo mix.
Add another slice of cheese then add a second patty on top.
Gently seal the edges and form both patties into one large, 4-inch wide, 1 ½-inch high patty.
Repeat this step until you have 4 patties.
In a medium-sized sauté pan, cook all four patties over medium heat. Cook for 3 to 4 minutes on one side and then gently flip them over and cook for another 3 to 4 minutes.
Add a cover to the pan and place it in an oven set at 250°F for 10 minutes.
When done, place the patties onto the rolls and enjoy!
Ingredients for Worcestershire Tomato Ketchup:
3 tbsp. of olive oil
¼ cup of diced red onion
8 Roma tomatoes (skinned and seeded) and cut into ¼-inch pieces
1 tbsp. of chopped garlic
2 tbsp. of Worcestershire sauce
1 tbsp. of apple cider vinegar
2 tbsp. of sugar
½ tsp. of chopped fresh dill
Salt and fresh ground pepper
1 pinch all-purpose seasoning
1 pinch celery salt
1 pinch mustard seed
Directions for Worcestershire Tomato Ketchup:
In a medium-sized sauté pan over medium heat, add the olive oil and onions and cook until the onions have caramelized.
Add the tomatoes and garlic and cook for a few more minutes to soften the veggies.
Then add the remaining ingredients and simmer for 30 minutes.
After the simmer, you can serve the ketchup chunky or blended and serve it as a smooth topping on the burgers
If you try this recipe at home, take a photo and tag us on one of our social media accounts below!
Enjoy!