02 Nov Start the Day with Some Chorizo Hash with Poached Egg!
Recipe and picture courtesy of Olive magazine.
Wake up and start the day with some delicious chorizo hash with poached eggs! For this recipe, we'll be using our tasty pork chorizo! We want to thank the talented chefs from Olive for this mouth-watering recipe.
Cooking Time
30 minutes
Yields
2 servings
Ingredients
2 tbsp olive oil
2 poached eggs
40 grams of chorizo
1 red chili, finely chopped
½ bunch of parsley, chopped
300 grams of new potatoes, quartered
Cheddar cheese, shredded (optional)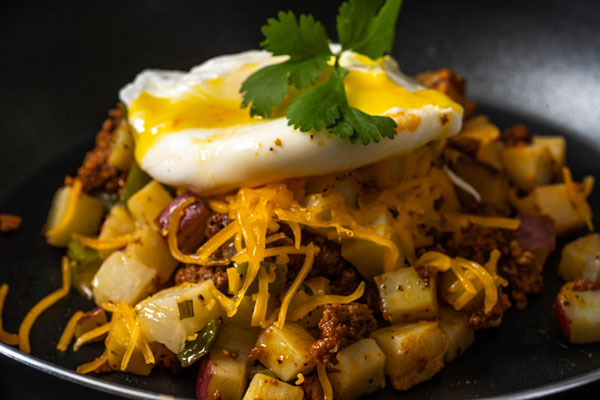 Directions
Boil the potatoes until tender.
Drain potatoes and set them aside to cool.
Heat the olive oil in a large non-stick frying pan and fry.
Incorporate potatoes and turn over until golden and crisp.
Add the chorizo and chili and fry for about 3 to 4 minutes, or until the chorizo is crispy.
Season and stir the parsley through.
Plate the potatoes and top them off, each with a poached egg.
Sprinkle cheddar cheese on top, if you wish.
Buy Chorizo Online
This holiday season, give the gift of savory select cuts to the meat lover in your life! We offer steaks, fajitas, beef, sausage, and more! Buy juicy, tasty meats online today! Send us a message online if you have any questions or want to learn more about our nationwide shipping!
Reach out to us today!
Check out all our chorizo recipes featuring the best chorizo brand! Show us all the chorizo recipes online on Instagram and Facebook.