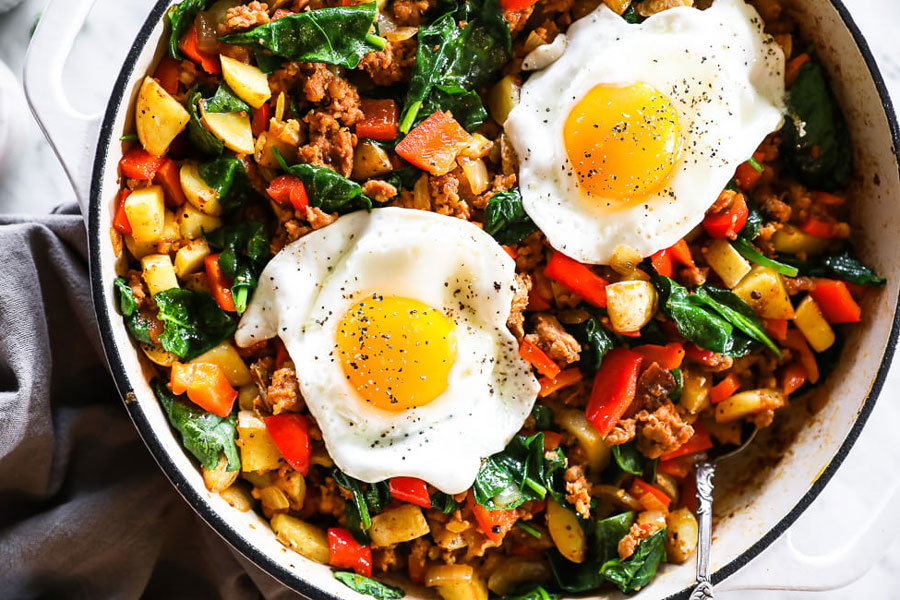 24 Feb Try This Healthy Chorizo Hash Paleo Recipe
Recipe and picture courtesy of The Real Simple Good Life.
Are you craving a healthy and delicious breakfast? This paleo hash recipe is perfect for satisfying your cravings. Simply substitute with our pork, beef, or chicken chorizo. Thank you to the chefs from The Real Simple Good Life for this recipe.
Total Time
30 Minutes
Yields
4 Servings
Ingredients
6 eggs
1 onion, diced
Salt and pepper
6 cups of spinach
2 tbsp of avocado oil
5 lbs of pork chorizo
3 cloves garlic, minced
Optional toppings: avocado, salsa, and cilantro
1 lb of small red or gold potatoes, diced into small cubes
2 bell peppers, stem and seeds removed and sliced into strips
Note: You may substitute a small white or sweet potato, if desired.
Directions
Cut up potatoes and heat a large pan over medium heat.
Add 2 tbsp of avocado oil.
Once hot, add potatoes and season with salt and pepper to taste.
Cook potatoes, occasionally stirring, until golden brown and tender, or about 8 minutes.
While potatoes are cooking, cut up garlic, onion, and bell pepper.
Once potatoes are cooked, remove them from the skillet and set aside.
In the same pan, add chorizo, garlic, and onion.
Stir everything together well and cook until the chorizo is browned and cooked through, or about 8 minutes.
Add in bell pepper and cook for about 2 minutes.
Add cooked potatoes and spinach to the pan and mix to incorporate. Cook until spinach wilts or about 1 minute.
Create small divots in the hash for the eggs. Crack eggs into the divots and cover the pan.
Cook until the egg whites turn completely white and the yolk remains soft for over-easy eggs, or about 4-5 minutes. Alternatively, you can cook eggs in a separate pan.
Serve the hash with eggs and any optional toppings.
Tag Us with our Chorizo Online!
Be sure to send us a message online if you have any questions about our Mexican chorizo products. Order our chorizo online and tag us, enjoying your favorite chorizo recipes on Instagram and Facebook.