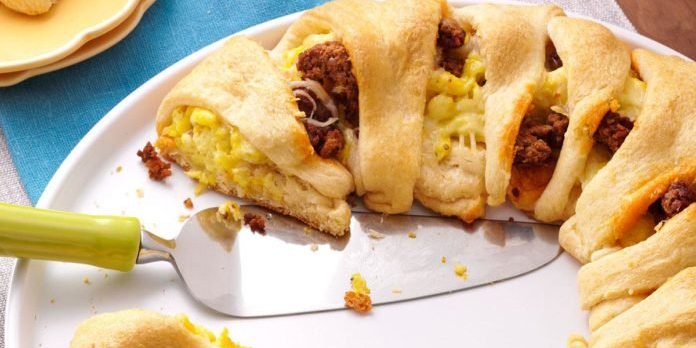 11 Mar

Chorizo & Egg Breakfast Ring

Recipe and photo courtesy of Frances Blackwelder of TasteOfHome.com.

Here's a new spin on the classic chorizo and egg dish! Instead of preparing it with a tortilla, this recipe, courtesy of the very talented Frances Blackwelder of Taste of Home, calls for adding these two great ingredients to baked crescent rolls! Yum! The only liberty we've taken with this recipe is adding our own "Guerra's Brand" Inc. pork chorizo!

Preparation Time: 25 minutes

Bake Time: 15 minutes

Serves: 8

Ingredients:  
2 tubes (8 ounces each) of refrigerated crescent rolls
8 oz. of our very own "Guerra's Brand" Inc. pork chorizo
8 large eggs
¼ teaspoon of salt
¼ teaspoon of pepper
1 tablespoon of butter
1 cup of shredded Pepper Jack cheese
1 cup of salsa
Directions:
Preheat your oven to 375°. Unroll the crescent dough and separate into triangles.
On an ungreased 12-inch pizza pan, arrange the triangles in a circle with the corners pointing outwards and the wide ends overlapping.
Over medium heat, cook the chorizo in a large skillet for 6 to 8 minutes or until it has browned.
Remove the chorizo from the skillet.
Whisk the eggs, salt, and pepper together. Add the mix into the same skillet you cooked the chorizo in and cook over medium heat until done.
Add the chorizo, egg mixture, and Pepper Jack cheese onto the wide ends of the triangles and fold the pointed ends over the filling. Tuck the pointed ends under the wide ends.
Place the rolls onto the pizza pan and bake for 15 to 20 minutes or until they are golden brown.
Serve with salsa and enjoy!
If you plan on making this chorizo and egg ring for breakfast, then be sure to take photos and tag us on Facebook, Twitter, and Instagram!