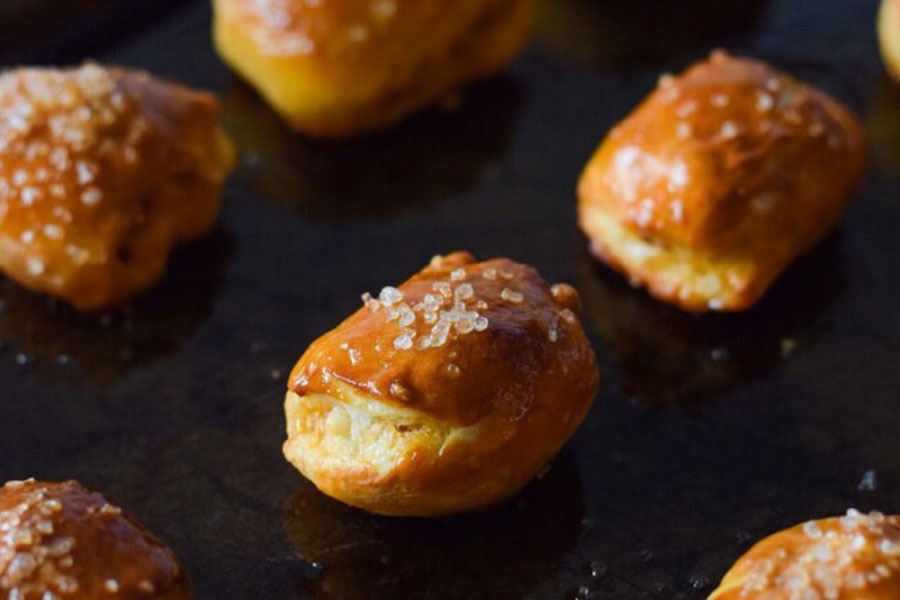 06 Jul

Chorizo Cotija Stuffed Pretzel Bites

Recipe and photos courtesy of IsabelEats.com.

Get ready for a unique recipe that's a bite-sized surprise! This dish combines the incredible flavors of chorizo with the creamy taste of cotija cheese wrapped in a homemade mini pretzel. This recipe comes to us courtesy of IsabelEats.com, a first-generation Mexican-American blogger who loves to combine authentic Mexican recipes with her own twist. For the chorizo portion, we'll be using our own authentic Mexican pork chorizo.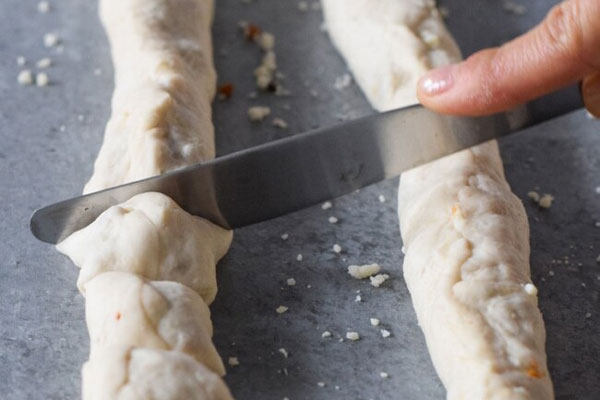 Preparation Time
50 minutes
Cooking Time
15 minutes
Yields
32 pretzel bites
Ingredients
For the dough:
1½ cups of all-purpose flour
½ teaspoon of salt
½ teaspoon of sugar
1¼ teaspoon of quick-rise instant yeast
½ cup of warm water
For the filling:
2 oz. of our pork chorizo
¼ cup of crumbled cotija cheese
For the topping:
1 cup of boiling water
2 tablespoons of baking soda
2 tablespoons of melted unsalted butter
Coarse sea salt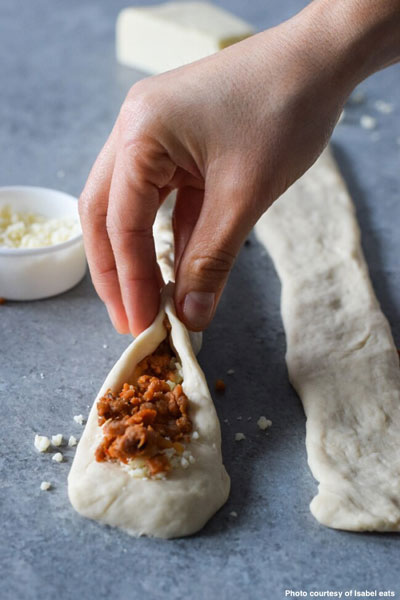 Directions
For the dough:
Place all ingredients for the dough into a bowl, mix well, and knead for about five minutes until the dough is soft and slightly sticky. If it's too sticky, add a tablespoon of flour.
Place the dough in a large bowl, cover, and let it rest for 30 minutes. During this time, prepare the filling and topping.
After 30 minutes, preheat your oven to 400°F and line two large baking sheets with parchment paper.
Lightly grease your working surface and divide the dough into two equal pieces.
Next, roll the dough into three ropes and widen them to about three inches wide.
Add a layer of crumbled cotija cheese and chorizo down the middle of each rope with room on the edges.
Carefully pinch the sides of the dough with your fingers to enclose the ropes.
Cut the ropes into 14 to 16 portions.
Transfer the pretzel bites into a large bowl and pour the topping solution on top.
Let them sit for 15 seconds, then place them onto the baking sheets and lightly sprinkle coarse sea salt on top.
Bake for 12 to 15 minutes or until golden brown. Brush them with melted butter, sprinkle with more sea salt, and enjoy!'
For the filling:
While the dough is resting, cook the chorizo over medium heat for seven to 10 minutes.
Transfer into a small bowl lined with a paper towel to soak up any grease and set aside.
For the topping:
As the dough rests, combine the boiling water and baking soda, stir, and set aside.
Whip up this incredible recipe today, then try our other recipes featuring our chorizo brands containing chicken and beef. Buy chorizo online today and we'll ship it to you with our nationwide shipping!