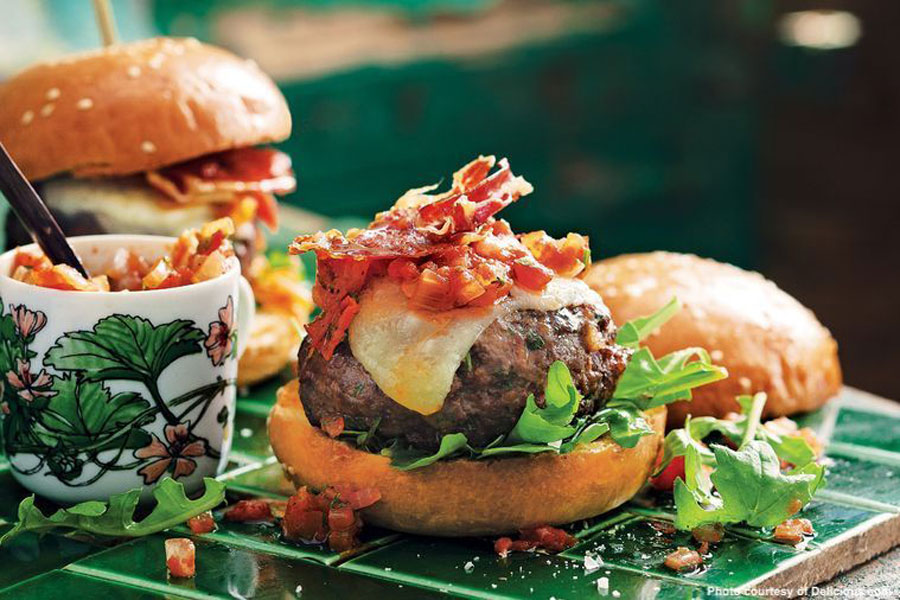 14 Sep Rich in Flavor and Fullness, Try These Chorizo Burgers for Dinner!
Recipe and photo courtesy of Delicious.com.
Chorizo de San Manuel has heard your hunger pains and knows what you need for dinner! These gourmet-style burgers from the incredible chefs at Delicious.com are full of flavor and perfect for everyone in the family. For the chorizo and ground beef portions, we'll be substituting in our own pork chorizo and beef.
Preparation Time
35 minutes
Cooking Time
15 minutes
Yield
4 Servings
Ingredients
6 ounces of our chorizo
1½ pounds of our lean ground beef
2 teaspoons of sweet and smoked paprika
2 teaspoons of chopped flat-leaf parsley leaves
2 teaspoons of olive oil
1 finely chopped onion
2 diced tomatoes
¼ of a can or 3½ ounces of canned tomato puree
4 slices of bacon
4 slices of mozzarella cheese
4 burger buns, split and toasted
Salt and pepper for seasoning
Directions
Mix the chorizo, ground beef, one teaspoon of paprika, and one teaspoon of parsley.
Form four patties, season with salt and pepper, cover, and refrigerate for 30 minutes to firm.
Heat one teaspoon of oil in a frypan over medium heat and cook the onion for one to two minutes or until softened.
Add the diced tomatoes and remaining paprika and cook for three to four minutes. Stir in the remaining parsley and continue stirring until the sauce thickens.
Preheat a cast-iron grill to medium, cook the bacon until crisp on both sides, then place to the side.
Brush the patties with the remaining oil and cook for six minutes on each side. Add a slice of cheese on top of each burger and let it melt.
Toast the buns, top with your favorite condiment, and add the hamburger patties bacon.
Enjoy!
Order Chorizo Online
Be sure to check out our other chorizo recipes featuring the best chorizo in Texas. Buy chorizo online and have it delivered to your home with our nationwide shipping. Contact us to place your order today!