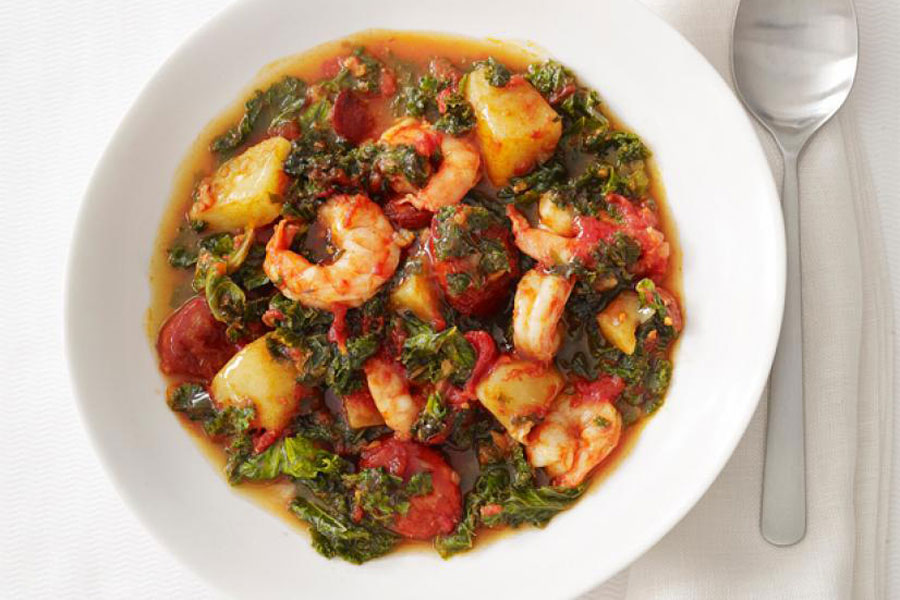 15 Feb

Try This 3 Step Shrimp, Chorizo and Jalapeño and Cheese Sausage Recipe

This Mediterranean dish has a distinct flavor yet it isn't unfamiliar, and the best part is that it's made with your favorite chorizo and jalapeño and cheese sausage flavors! Try making this delicious and easy recipe for your next family dinner! 
Preparation Time
10 mins
Cooking Time
40 mins
Ingredients
13
Serves
4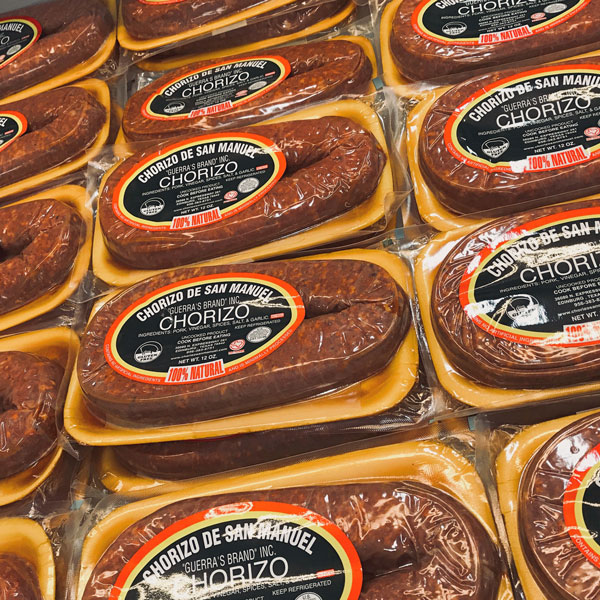 Ingredients
Kosher salt
2 bay leaves
¼ teaspoon dried thyme
4 garlic cloves, smashed
¼ cup extra virgin olive oil
¼ teaspoon dried oregano
1 large Spanish onion, diced
2 teaspoons of smoked paprika
1 pound medium shrimp, peeled and deveined
4 ounces Spanish chorizo, casings removed, sliced
1 bunch kale, stems removed and leaves roughly chopped
1 pound russet potatoes, peeled and cut into 1-inch chunks
1 cup canned whole plum tomatoes, roughly chopped, plus ½ cup juice from the can
Directions
Heat the olive oil in a small dutch oven over medium heat. Add the onion and garlic and cook until golden brown, about 15 minutes. Add the chorizo, paprika, and 1 teaspoon salt and cook until the oil turns deep red about 2 minutes. Add the chopped tomatoes (reserve the juice), the bay leaves, thyme, and oregano, and cook for 1 more minute.

 

Add the potatoes, 2 cups water, tomato juice, and 1 teaspoon salt. Bring to a boil, then reduce the heat, cover and simmer until the potatoes are almost tender about 15 minutes. Stir in the shrimp and simmer just until they curl and turn pink about 3 minutes. Discard the bay leaves. Ladle the stew into bowls.

 
Check out the full recipe here!
Try out Our Different Chorizo and Jalapeño and Cheese Sausage Flavors!
Looking for more flavors to indulge in your next family meal? All of our signature flavors of chorizo and jalapeño and cheese sausage are available online on our website! Our products are ready to go and ready to ship anywhere for a reasonable price! When it comes to our signature chorizo, we also sell a variety of products that include : 
Signature recipe pork chorizo

 

Savory and tender Beef chorizo
Lean and juicy Chicken chorizo
Classical spicy San Luis chorizo
Check out our available products plus our amazing deals on the chorizo de san Manuel website! For more information on our amazing products check it out here!
Check out More Recipes at Chorizo De San Manuel!
Check out more recipes on the Chorizo De San Manuel page here! Show us some of your culinary favorites on our Instagram and Facebook!