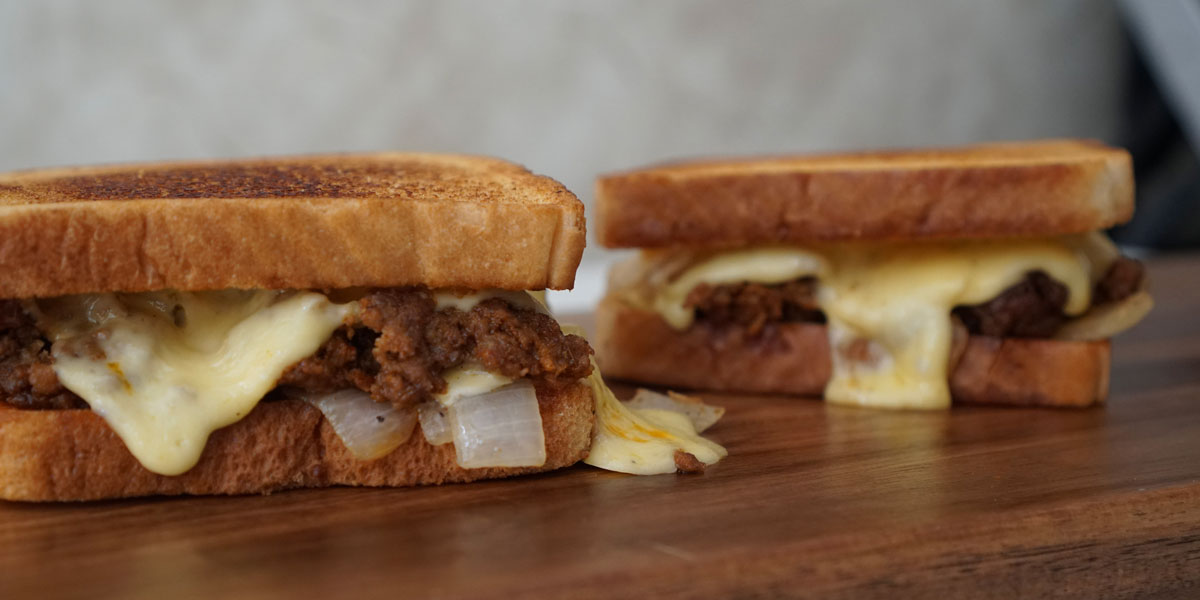 10 Nov

A Cheesy Dinner with Some Chorizo and Beef Patty Melt Sandwiches!

Recipe courtesy of Ree Drummond of FoodNetwork.com.

If you love patty melts and have them for dinner often, then why not turn the flavor and originality up a notch? In this recipe, we'd like to showcase a new spin on this dish courtesy of the very talented Ree Drummond from FoodNetwork.com. It's a patty melt sandwich that incorporates chorizo and beef! The only thing is that we'll be making a couple of small adjustments by adding our Guerra's Brand pork chorizo and signature ground beef. Try it out at home and we hope you enjoy it!
Preparation Time
5 minutes
Cooking Time
50 minutes
Total Time
55 minutes
Serves
4 patty melt sandwiches
Ingredients
1 pack of our Guerra's Brand pork chorizo
½ pound of our ground beef
1 stick of butter
1 large onion, halved and sliced
8 slices of rye bread
8 slices of cheddar cheese
Salt and pepper to taste
Directions 
In a skillet, add 2 tablespoons of butter over low to medium heat.
Add the sliced onion and sauté for 20 to 25 minutes or until golden brown.
In a bowl, mix the ground beef and chorizo. Form into 4 patties.
Cook the patties over medium to high heat for about 5 minutes until well done. Salt and pepper to taste.
Stack your ingredients in this order: bread, sautéed onions, the patty, a slice of cheese, and the other slice of bread.
On a griddle or skillet, melt 2 tablespoons of butter and grill the sandwiches until golden brown and the cheese is melted.
Serve and enjoy!
Try one of our other recipes and let us know how much you loved them by tagging us on Facebook, Twitter, and Instagram!