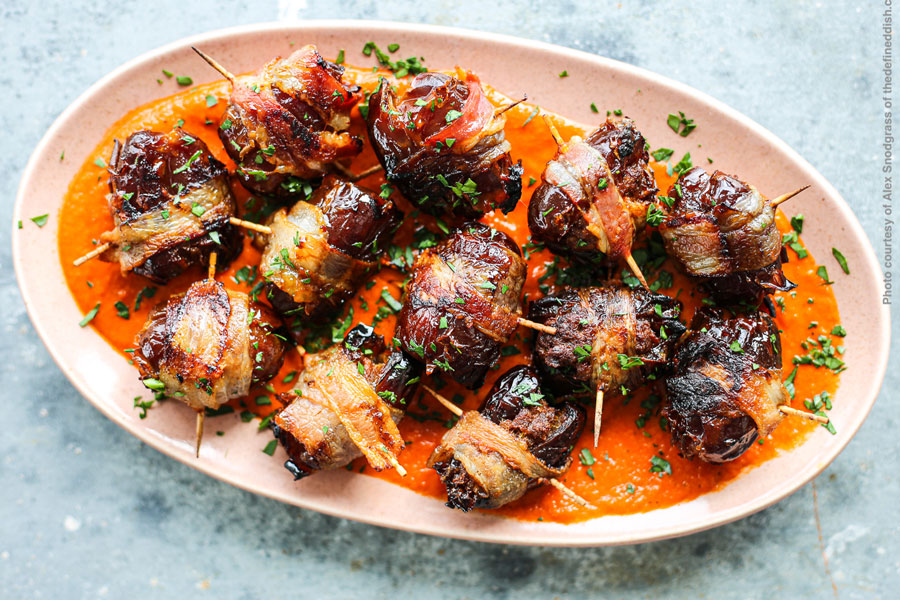 24 Feb

If You're a Lover of Chorizo and Bacon, Then Try These Delectable Dates!

Photo and recipe courtesy of Alex Snodgrass of TheDefinedDish.com.

If your two favorite foods are bacon and chorizo, then we have an appetizer that you'll love! These chorizo-stuffed, bacon-wrapped dates are the perfect snack for when entertaining family and friends! Plus, there's a second recipe for a roasted pepper sauce that'll give these bites an extra kick! The photo and recipe come to us from author and recipe developer Alex Snodgrass of TheDefinedDish.com, and she only uses the best chorizo brand for her recipes: Chorizo de San Manuel!
Preparation Time
30 minutes
Cooking Time
15 minutes
Serves
16 dates
Ingredients for the Roasted Pepper Sauce
2 teaspoons of extra virgin olive oil
¼ cup of diced shallot onions
2 cloves of minced garlic
1 pinch of kosher salt

 

1 pinch of black pepper

 

1 cup of chopped and roasted red peppers
2 tablespoons of roasted red pepper juice
1 14.5-ounce can of peeled, whole tomatoes

 

1 teaspoon of sherry vinegar

 

A blender
Directions for the Roasted Red Pepper Sauce
Over medium heat, heat the olive oil in a small saucepan.
Add the shallot onions, garlic, salt, and pepper. Cook for two to three minutes.

 

Add the roasted red peppers and red pepper juice. Stir for three to four more minutes.

 

Add the vinegar and canned tomatoes and bring the sauce to a boil.

 

Reduce the heat to low, cover, and simmer while you prepare the chorizo-stuffed bacon-wrapped dates.

   

As the dates bake, transfer the sauce into your blender and whip until it's smooth and creamy.

 

Set aside and keep warm until the dates are done.

 
Ingredients for the Dates
8 ounces of our pork chorizo
16 pitted Medjool dates

 

8 slices of bacon, cut in half
1 tablespoon of chopped parsley
1 small box of toothpicks
Directions for the Dates
Preheat your oven to 350°F and line a baking sheet with parchment paper
Carefully open each Medjool date and add ½ a teaspoon of chorizo into the cavity.
Wrap a slice of bacon around the date, secure with a toothpick, and place on the parchment paper.

 

Bake for 12 to 15 minutes. Set the oven to broil and let the dates sit for two to four minutes or until the bacon is crisp.

   

Spread the roasted pepper sauce onto the bottom of a serving platter, add the chorizo-stuffed dates, garnish with parsley, and enjoy!

 
Try out our other chorizo recipes and be sure to tag us on Facebook, Twitter, and Instagram when you whip up this tasty chorizo appetizer.