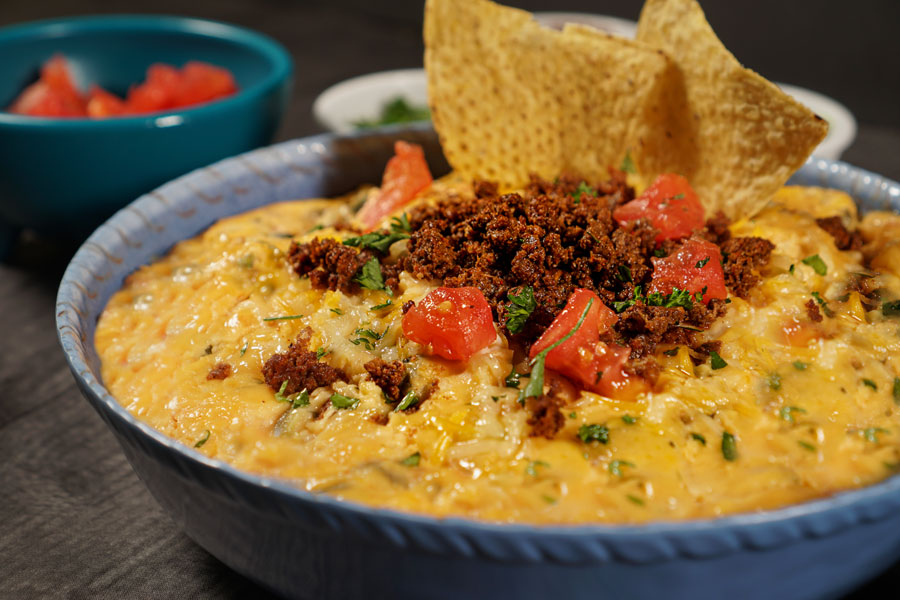 23 Oct

The Best Choriqueso Dip You'll Ever Have for Game Day!

Photo and recipe courtesy of Lisa Fain and LeitesCulinaria.com.

Since football season is in full swing, having the usual pizza, wings, and potato chips can get boring quick. If you're looking to change things up a bit, then how about a popular Mexican dish that's sure to leave everyone wanting more? Choriqueso goes great with any game day get-together, and with this recipe courtesy of LeitesCulinaria.com, your friends and family will each be getting their share! The only change we're making is adding our own pork chorizo. Try it out!
Preparation Time
10 minutes
Cooking Time
10 minutes
Serves
6 to 8
Ingredients
1 to 1/3 of a cup (8 ounces) of our Guerra's brand pork chorizo

½ a cup of heavy cream

2 cups (8 ounces) of shredded Monterrey Jack cheese

2 tablespoons of freshly chopped cilantro

1 bag of tortilla chips, your choice of brand
Directions
Place a cast-iron skillet over medium-to-low heat. Cook the chorizo for 5 to 7 minutes or until brown. When done, remove the chorizo from the skillet and set aside on paper towels.

Wipe the skillet clean, and on low heat, pour in the heavy cream. Immediately pour in the cheese and stir for 2 to 5 minutes or until it melts.

Shut off the heat and mix the chorizo into the cream and cheese mix. Top the Choriqueso with the cilantro and set the skillet safely on your table.

Line the sides of the skillet with a few tortilla chips for decoration.

Enjoy!
If you give this recipe a try, then tag us on Facebook, Twitter, or Instagram! Check out our other recipes or place an online order today!