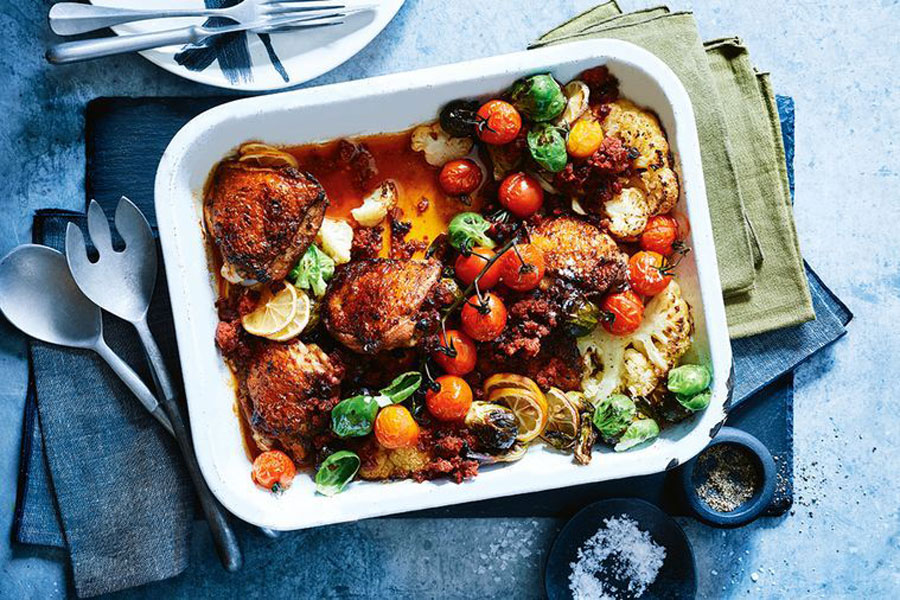 07 Nov

Tear Into This 1 – Pan Chicken N' Mexican Chorizo Bake

If you are wondering what goes best with chicken and vegetables, then wonder no more! Mexican chorizo could be just the flavor you're looking for in your next dinner recipe. Now you are probably thinking, chorizo and chicken sound like an odd pairing to put together, but it actually creates an unforgettable flavor and essentially adds a unique taste to the chicken and vegetables! 
Interested in Chorizo? Check Out Our Signature Mexican Chorizo Flavors!
Chorizo De San Manuel is dedicated to bringing all kinds of flavors, which is why putting extra care and quality into our products is the highlight of our productivity. We have a variety of different flavored chorizos to choose from such as the :
Pork Chorizo
Pork chorizo is :
One of the most popular choices

 

Can be used in all kinds of dishes
Has a unique and spicy flavor

 

Has wonderful spices and juicy flavor
Beef Chorizo
The beef chorizo :
is one of the alternative choices for pork chorizo flavors

 

has a savory yet succulent taste

 

gives the best melt-in-your-mouth flavor, with a nice garlic finish

 
Chicken Chorizo
The chicken chorizo : 
is also another alternative to pork
has a combination of chicken flavor and spices
has a leaner taste but with the same seasonings and spices

 
Chorizo De San Luis
Chorizo De San Luis :
has a much more concentrated flavor of pork and spices

 

contains just the right amount of fat content
has unique seasonings that complement the pork well

 

has a savory pork flavor with a much-concentrated amount of spiciness

 
Check out more about Chorizo De San Manuel chorizo here!
Chicken, Mexican Chorizo, Brussel Sprouts and Cauliflower Bake
Preparation Time: 20 mins
Cooking Time: 45 mins
Ingredients: 13
Serves: 6
Mixed salad leaves
1 tsp ground cumin
2 tbs sherry vinegar
1 tsp smoke paprika
1 lemon, thinly sliced
2 garlic cloves, crushed
1 tsp ground fennel seeds
300 g dried chorizo, chopped
½ cup (80 ml) extra virgin olive oil
250 g small brussel sprouts, trimmed
400 g truss cherry tomatoes, cut into clusters
1 small cauliflower (about 1 kg) sliced into 4 steaks
6 small grasslands poultry thigh cutlets, skin on, trimmed
Directions
Place chicken, half the oil, spices, vinegar, and garlic in a bowl, season, and toss to coat. Leave to marinade for 20 minutes (or even overnight if time allows)
Preheat oven to 220 C. Place chorizo in a food processor and blitz until finely chopped. Set aside.
Heat a large non-stick frying pan over high heat. In batches of 2, cook chicken skin-side down for 5 minutes or until well brown, then turn and cook for a further 3 minutes. Place in a large roasting tray. Place cauliflower, Brussels sprouts, and lemon slices around the chicken drizzle with remaining oil, and season. Roast for 30 minutes, then add tomatoes, scatter with chorizo, and roast for a further 15 minutes or until chicken is cooked through, vegetables are tender and chorizo is golden brown. Loosely cover with foil and leave to rest for 10 minutes, then serve with salad leaves.

 
Need Some Cooking Inspiration? Check Out the Recipes Chorizo De San Manuel Website!
For more inspirational recipes and mind-blowing techniques, go and check out the Chorizo De San Manuel page here! 
Show us some of your culinary favorites on our Instagram and Facebook!