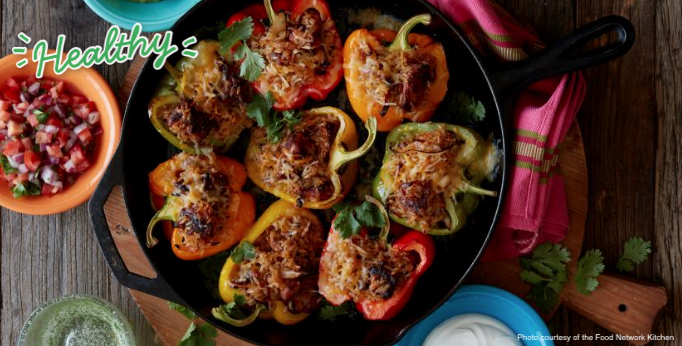 08 Sep

Stuffed Chicken Fajita Bell Peppers to Spice Up Your Game Day!

Recipe and photo courtesy of the Food Network Kitchen.

Football season kicks off this week and you'll be needing a delicious treat for the game to feast on with family! This bell pepper recipe is a healthy option that's explosive with flavors. The only change we'll be making is adding our marinated chicken fajitas! This meal comes courtesy of the cooking geniuses at the Food Network Kitchen. Bon appétit!
Preparation time:
45 minutes
Cooking time:
25 minutes
Serves:
4 stuffed bell peppers
Ingredients
12 oz. of our marinated chicken fajitas
2 tablespoons of canola oil
1 large chopped onion
2 cups of cooked brown rice
1 cup of shredded and blended Mexican cheese
1 lime sliced in half
4 medium-sized bell peppers cut in half with stems and seeds removed
A handful of fresh cilantro
2 tablespoons of sour cream
½ cup of guacamole (optional)
½ cup of pico de gallo (optional)
Directions
Preheat your oven to 450°F.
Add 1 tablespoon of canola oil to a large cast-iron skillet over medium heat.
Slice the marinated chicken into bite-sized pieces and cook.
After 2 minutes, add the sliced onion and cook for 3 minutes.
Place the chicken and onion into a large bowl. Add the cooked rice, the half cup of shredded cheese, three-quarters of a teaspoon of salt, a pinch of pepper, and a squeeze of lime.
Pour the remaining canola oil on the skillet and place the peppers with the half-side facing up so they appear as bowls. Scoop the mixture into all pepper halves and cook on high heat for 2 minutes.
After, bake the peppers for 20 minutes or until they've softened.
Sprinkle the remaining cheese on top and bake for 3 more minutes.
Squeeze the remaining lime on the peppers.
Top with cilantro, sour cream, guacamole, or pico de gallo and enjoy!
Try this recipe and tag us on Facebook, Twitter, or Instagram and let us know how it was! Be sure to check our other delicious recipes and place an online order for one of our other mouth-watering products!