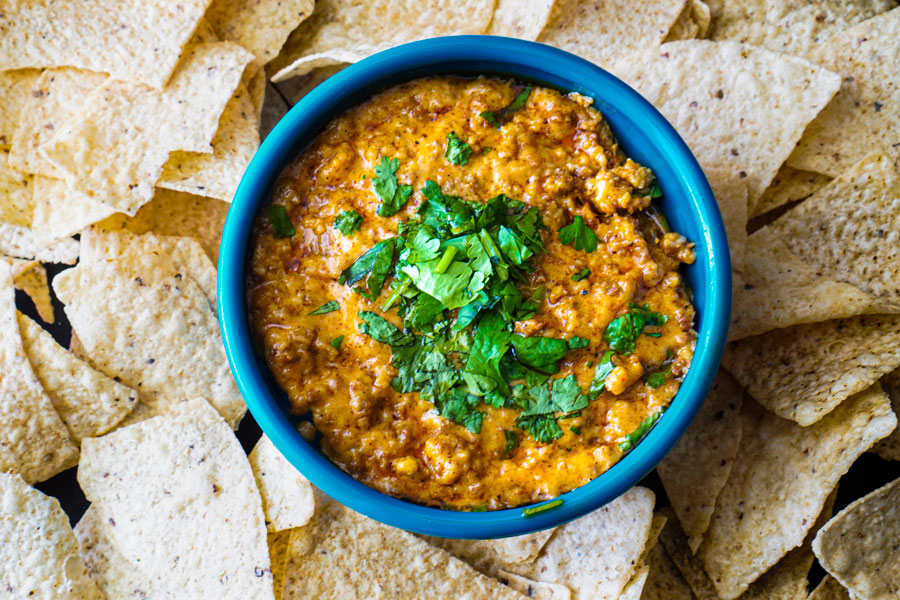 10 Apr Chicken Chorizo Chili
Recipe courtesy of Jenny Rosenstrach of BonAppetit.com.
Photo courtesy of Alex Lau.
Are you looking for a healthier dinner option without sacrificing those flavors you love? Try this keto-friendly chicken chorizo chili recipe courtesy of the very talented Jenny Rosenstrach of BonAppetit.com! It's certainly full of flavors and you can substitute her chorizo option with our own chicken chorizo.  
Preparation Time:
1 hour and 10 minutes
Serves:
8
Ingredients:
3 tablespoons of olive oil, divided
2 packages of our own chicken chorizo
1 large, chopped onion
2 finely-grated garlic cloves
Kosher salt
Freshly-ground pepper
1 cup of lager or water
1/3 cup of chili powder
1 tablespoon of crushed, dried oregano
2 bay leaves
¼ teaspoon of ground cinnamon
1 28 oz. can of diced tomatoes
2 cups of low-sodium chicken broth
1 cup of tomato puree
1 15 oz. can of Cannellini white kidney beans, rinsed
½ cup of grated cheddar cheese, 1 diced avocado, ½ cup of chopped cilantro, and sour cream (for serving)
Directions:
In a large pot, heat 2 tablespoons of olive oil over high heat. 
Toss in the chicken chorizo. Stir occasionally and break up the chorizo for about 4 minutes or until it's lightly browned.
Once cooked, transfer it to a plate.
Reduce the heat to medium-high and add 1 tablespoon of olive oil.
Add the chopped onion and garlic. Season with salt and pepper.
Cook for about 5 minutes or until the onion becomes soft.
Add the lager or water and bring to a boil. Be sure to scrape any browned bits off the bottom of the pot.
Boil for about 5 minutes or until the water or lager has completely evaporated.
Add the chili powder, oregano, and cinnamon. Cook for about 1 minute.
Stir in the bay leaves, diced canned tomatoes, broth, and tomato puree and bring to a boil.
Reduce the heat to medium-low and stir for about 30 to 35 minutes or until the mix thickens.
Stir in the cooked chorizo and cover the pot. Keep cooking for another 10 minutes.
Add the kidney beans and simmer for another 10 minutes.
Turn off the heat, remove the bay leaves, and serve the chili. Top off with shredded cheese, sliced avocado, cilantro, and sour cream.
Enjoy!
This chili may take a while to cook, but the payoff is HUGE! Try it for yourself and let us know how it is by tagging us on Facebook, Twitter, or Instagram!