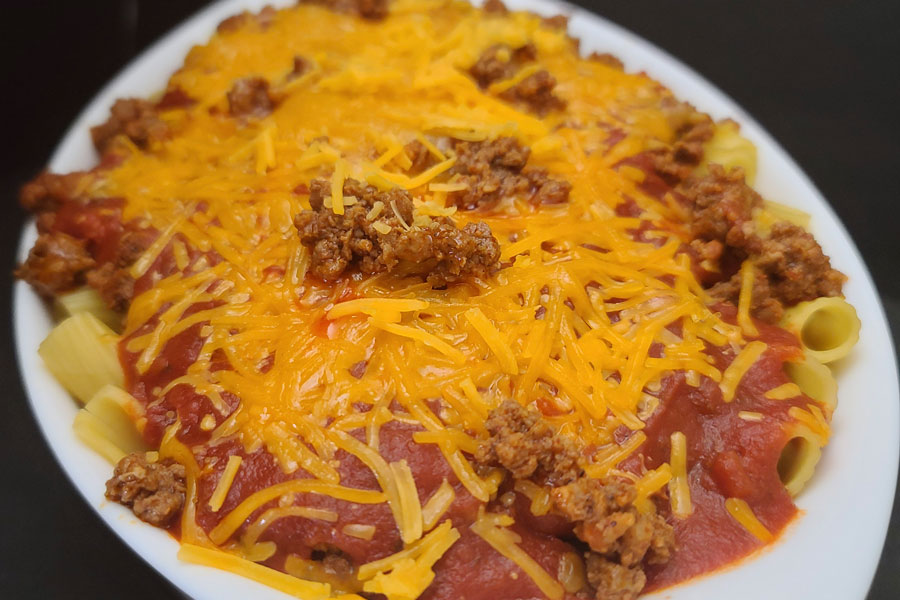 01 Dec Prepare a Delectable Portion of Cheesy Chorizo Rigatoni for Dinner!
Recipe courtesy of AllRecipes.com.
If you happen to love Italian food with a fair share of cheese sprinkled on top, then we have a recipe for you! This cheesy rigatoni will leave you wanting seconds before finishing your first portion! Courtesy of AllRecipes.com, we know that you'll love it! As always, we'll be using our Guerra's Brand pork chorizo to add an extra shot of flavor instead of the recipe's use of sausage.
Preparation Time
10 minutes
Cooking Time
1 hour 15 minutes
Total Time
1 hour 25 minutes
Serves
6
Ingredients
1 8-ounce pack of rigatoni pasta
1 12-ounce pack of our pork chorizo
¼ cup of diced onion
4 cups of spaghetti sauce
4 cups of water
2 cups of cottage cheese
2 cups of cheddar cheese
¼ cup of freshly grated Parmesan cheese
2 large beaten eggs
1 tablespoon of dried parsley
½ a teaspoon of Italian seasoning
½ a teaspoon of dried basil
Salt and pepper to taste
Directions
In a large pot, boil the rigatoni. Stir until tender, drain, and set aside.
Preheat your oven to 350°F and grease a large baking dish.
In a medium-sized skillet, cook the chorizo and onions for 5 to 7 minutes.
In a large mixing bowl, combine the spaghetti sauce, cottage cheese, half the cheddar cheese, Parmesan cheese, Italian seasoning, basil, cooked chorizo, onions, salt, and pepper. Add the cooked pasta and mix thoroughly.
Transfer to the baking dish and cover with aluminum foil.
Bake for 45 minutes, remove from the oven to sprinkle the remaining cheddar cheese, and return to the oven for 10 minutes or until the cheese is melted.
Let it sit for 5 minutes to cool, then serve and enjoy!
If you love this dish, then try our other recipes! Be sure to tag us on Facebook, Twitter, and Instagram to share your results!