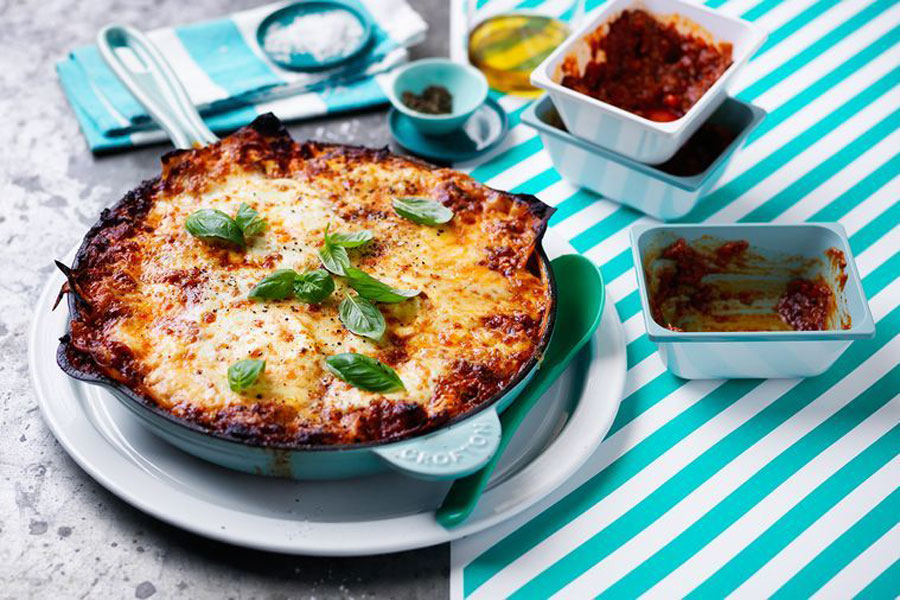 21 Oct This Cheesy Chorizo Lasagna Makes the Perfect Protein-Packed Dinner!
Recipe and picture courtesy of Delicious.
Want to create a show stopping chorizo dinner for your family? Try this tasty cheesy chorizo lasagna, packed with our savory pork chorizo, pork, and veal mince all in this one dish! We want to give thanks to the chefs at Delicious. for this recipe!
Preparation Time
20 Minutes
Cooking Time
2 Hours
Yields
8 servings
Ingredients
Ingredients for the Chorizo Sausage Ragout
⅔ cup of red wine
¼ cup of tomato paste
1 ½ cups of beef stock
3 garlic cloves, crushed
1 carrot, finely chopped
1 onion, finely chopped
1 celery, finely chopped
2 Tablespoons of olive oil
250 grams of pork, minced
250 grams of veal, minced
1 rosemary sprig, leaves picked
400 grams of Ardmona diced tomatoes
250 grams of fresh chorizo sausages, skins removed, we recommend pork chorizo
Ingredients for the Lasagna
Basil leaves to garnish
5 cups of chorizo ragout
250 grams of mascarpone
2 buffalo mozzarella balls, sliced
¼ cup of finely grated parmesan
200 grams of dry lasagne pasta sheets
Directions
For the Ragout
Heat the olive oil in a deep-frying pan over medium heat.
Add the chorizo, rosemary, garlic, carrot, onion, and celery.
Cook and break up chorizo and occasionally stir for about 8 minutes or until pork chorizo browns and vegetables soften.
Increase heat to high and add the pork and veal mince.
Cook and break up the meat for about 10 minutes or until browned.
Add the tomato paste, and stir for about 5 minutes or until caramelized.
Add the wine and simmer for 2 minutes.
Add the beef stock and diced tomato.
Bring to a boil, and then reduce heat to low and gently simmer, occasionally stirring, for about 1 hour or until sauce is rich and thick.
For the Lasagna
Place a small amount of ragout in the base of a large oven-proof frying pan.
Add three lasagne pasta sheets.
Pour over the remaining ragout.
Stir the mascarpone through the ragout, and push the remaining lasagne sheets into the sauce.
Top off with mozzarella.
Cover the pan and cook over medium-low heat for about 12 minutes or until the pasta is al dente.
Heat a grill to high. Scatter the pasta with parmesan and grill for 1-2 minutes or until golden.
Serve with basil.
Chef's note:
For leftover chorizo ragout, cool and store refrigerated for up to 5 days or freeze for three months. It may also go great with delicious rigatoni.
Reach out to us online about our Chorizo!
Check out other recipes featuring our popular chorizo brands. Show us how you enjoy our chorizo on Instagram and Facebook! Reach out to us online if you have any questions or would like to learn more about our nationwide shipping.