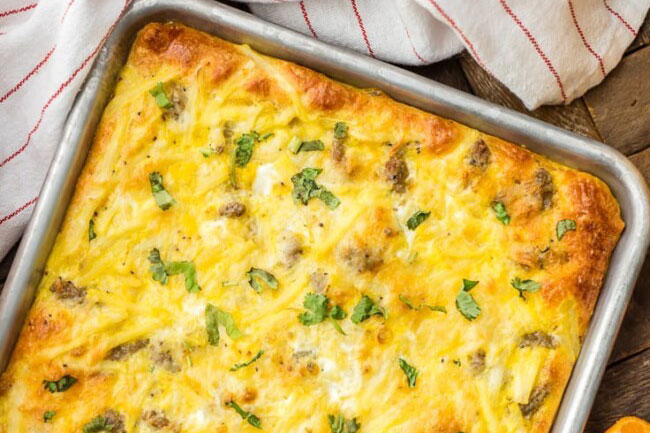 09 Jun

How About Some Breakfast Chorizo Pizza to Start Your Day?

Recipe and photo courtesy of TheCookieRookie.com.

What happens when you take a dash that's everyone's favorite but substitute the traditional ingredients with chorizo, eggs, and more? You get a delicious dish loaded with flavor that's perfect for breakfast or brunch! This breakfast chorizo pizza recipe comes to us from TheCookieRookie.com, and for the sausage portion, we'll be using our pork chorizo.
Preparation Time
15 minutes
Cooking Time
30 minutes
Yields
6 servings
Ingredients
1 crescent dough sheet
8 oz. of our pork chorizo
1 cup of hash browns
1 cup of shredded Mexican cheese
5 eggs
¼ of a cup of milk
½ a teaspoon of salt
½ a teaspoon of pepper
2 tablespoons of grated parmesan cheese
1 can of nonstick spray
Directions
Preheat your oven to 375°F.
Let the dough sheet sit at room temperate for 15 minutes.
Spray a small sheet pan (10×15 inches) with nonstick spray. For a deep-style pizza, use a 9×13-inch casserole dish.
Cook the chorizo for 5 to 7 minutes over medium heat and drain the grease.
Spread and press the dough sheet onto the pan so it covers the entire surface.
Spread the chorizo evenly on the dough.
Create a new layer with the hash browns and repeat this step with the cheese.
In a bowl, combine the eggs, milk, salt, pepper, and parmesan cheese.
Spoon the egg mixture evenly over the cheese
Bake for 25 to 30 minutes or until the eggs are set.
Let it cool before slicing.
Enjoy!
Be sure to try our recipes featuring our authentic Mexican chorizo. Buy chorizo online with nationwide shipping and follow us on social media!