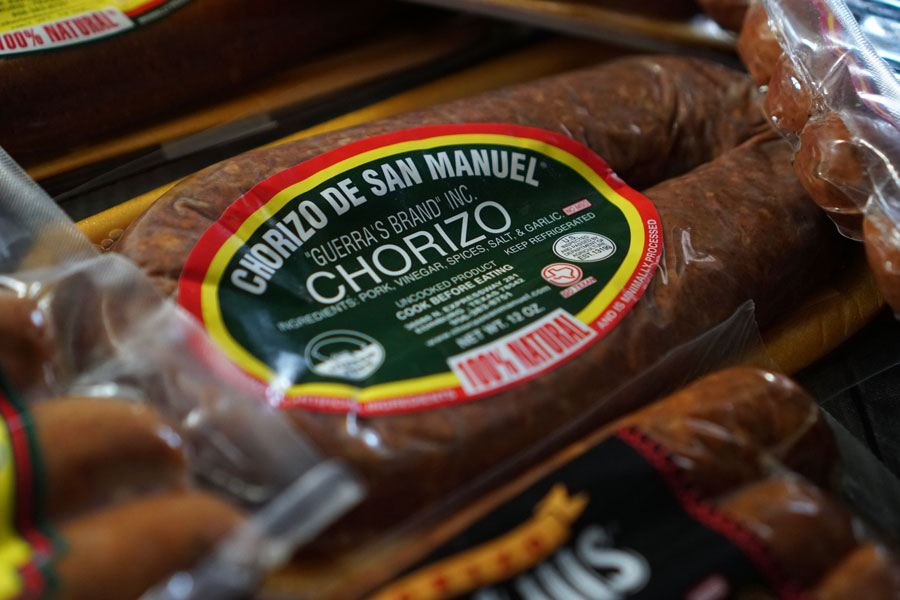 09 Jun

Top 9 Trending TikTok Chorizo Recipe Videos ft. Chorizo De San Manuel

Looking for new and delicious ways to use your chorizo? Our fans are getting creative on TikTok with our Mexican chorizo. Check out how these tiktok chorizo recipe videos using our Chorizo De San Manuel!
Chorizo in Your Salad or Slaw!
Need to spice up your salad bowls for your next lunch prep? Tiktoker @purazabrosura recommends any salad of your choosing topped with savory chorizo. Simple, fast, easy, and hassle-free! See it here!
Stack this 8 Layer Dip with Mexican Chorizo
Layers are good for any meal, so why not try an 8-layered dip dish with chorizo made by creator @Compadres_2020?! It has everything you'd want in a dip, beans, potato, and chorizo from Chorizo De San Manuel! Find this recipe here!
Say Yes to Queso with Double Chorizo
Are you tired of the same old nachos and toppings? Mix it up and put chorizo and other Hispanic favorites that help turn your nachos into a spectacular meal! Learn more about this recipe here!
Chorizo, Potatoes, and Egg – OH MY!
This quick and easy recipe by @Foodinspiration06 is hassle-free and includes the best parts of breakfast! Recipe here!
Cowboy Tacos with Chorizo!
Put on your bootstraps and cook like a pro! @Brahmandarlin teaches us to have a fixin' of onions, bacon, mushrooms, eggs, and savory chorizo! Check it out! Top this off with your favorite salsa, and you've got a winner.
Chorizo con Papas Tacos
Tacos with pureed potato and chorizo? @PitFather might have just done something! This recipe is packed with potato, chorizo, and your favorite cheese! Try out this recipe.
Chorizo Street Corn Casserole
Now this one left our mouths watering! @bngbbq tops off their Chorizo Street Corn Casserole with our pork chorizo! Made with creamy cheese corn – this makes the perfect meal. Try this insanely delicious recipe for yourself by checking it out here!
Choriqueso Recipe!
Who doesn't love the taste of gorditas fresh off the grill? So why not combine with the gooey perfection that is Choriqueso? Check out this recipe here, made by @neon_signs_warehouse!
Keto Recipe Using Chorizo!
This fantastic idea brings lots of different flavors, and the best part is it's easy to make, especially for meal preppers on the go! Check out more about this recipe here, made by @bswanson97!
Brunch Never Looked so Good! 
Are eggs benedict leaving you hungry? You need to spice up your meals with these savory eggs on a bed of muenster cheese and Mexican chorizo, with a side of avocado and cherry tomatoes! We have @monicawatt7 to thank for this creation!
Check out More Chorizo Recipe Videos at Chorizo De San Manuel!
Check out more recipes on the Chorizo De San Manuel page here! Tag us your culinary favorites on TikTok, Instagram, and Facebook!