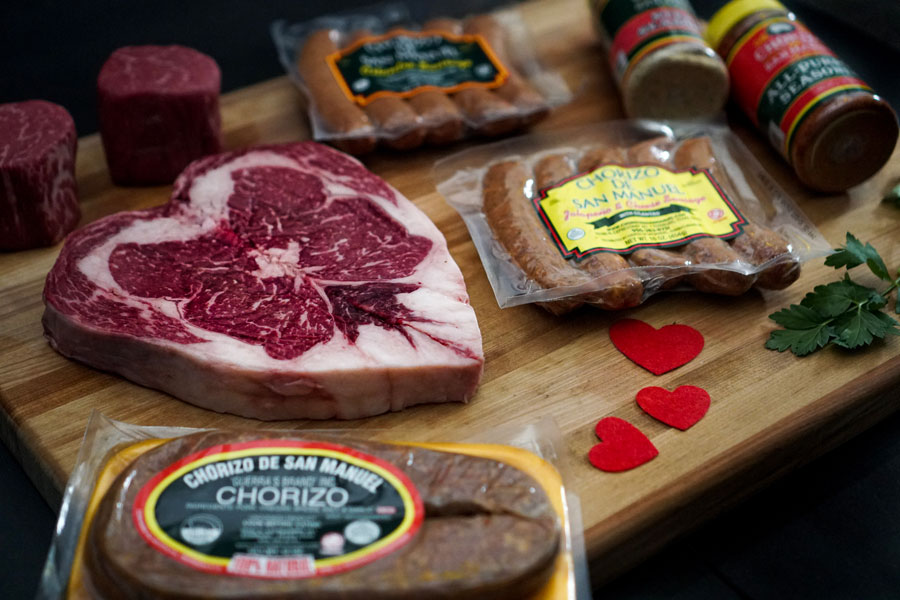 01 Feb

Enjoy Prime Steaks in Every Valentines Package

Valentine's Day is right around the corner, and if you're not sure what to get that special someone in your life, then Chorizo de San Manuel has you covered. Instead of making a reservation with an overhyped restaurant, celebrate the holiday by staying in, opening up our Cupid Box, and firing up the grill for a dinner of prime steaks!

What Does it Come With?
At Chorizo de San Manuel, we know that picking out the right meats for a Valentine's Day barbecue dinner can be a little tough (no pun intended!). Consider our Cupid Box, a gift that includes:
One 32-oz. prime, heart-shaped ribeye

Two eight-ounce center-cut tenderloin prime steaks

One package of cilantro sausages

One package of jalapeño and cheese sausages

One package of our Guerra's Brand pork chorizo

One bottle of steak seasoning

One bottle of all-purpose seasoning

A Ribeye with Cupid's Touch
The headliner of the Cupid Box is the Cupid Ribeye, and it does not disappoint! This 32-oz. prime steaks is juicy, tender, and unmatched in quality. With its heart-shaped cut, the Cupid Ribeye is available just in time for Valentine's Day and makes for an excellent gift. Plus, if you can't get enough Cupid Ribeye, it's available separately. 
Prime Steaks are a Lover's Treat
At Chorizo de San Manuel, we proudly offer curbside service and nationwide shipping for those not so close by. We always ship our products frozen and in Styrofoam coolers with cold packs to ensure your order is cold when it arrives. Plus, we offer overnight and two-day delivery!
Order Prime Steaks Online!
Contact us to order a Cupid Box today! Plus, when you snap a photo, make sure to tag us on Facebook, Twitter, and Instagram.