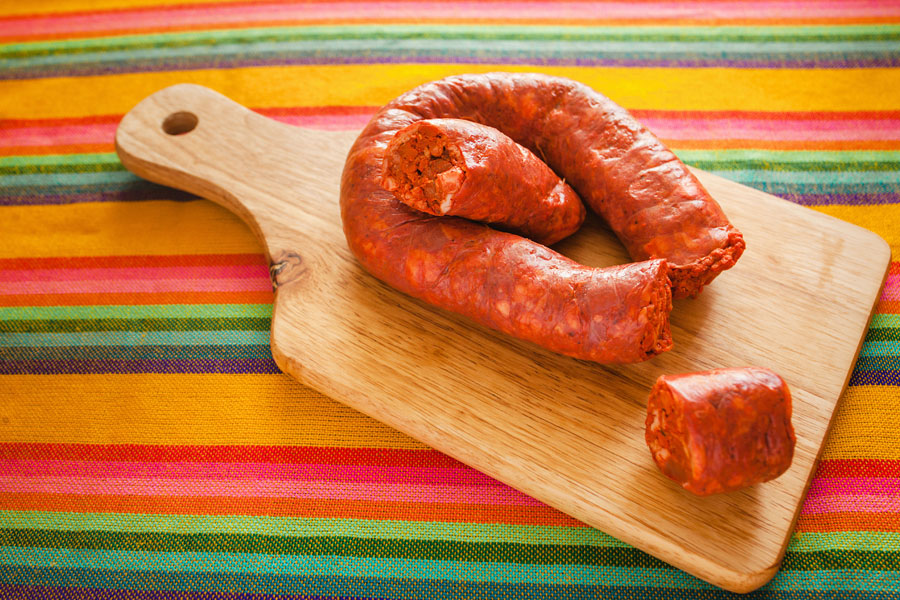 26 Jul

5 Savory Mexican Chorizo Recipes You Need to Try!

Chorizo – you've likely heard the word, you've seen the recipes online, but have you tried it in your meals? Now is the time to substitute Chorizo De San Manuel's Mexican chorizo in your favorite dishes. The flavor palate enhances most dishes.

You should know, there are two types of chorizo. Spanish chorizo, is a type of sausage, fermented and cured, and left to dry. Mexican chorizo is in a category of its' own. It is sold fresh in a casing you later remove, it is juicy when cooked and oozes flavor into any meal turning it from 'bland' to 'grand'!

These tasty and crumbly morsels are enjoyed nation-wide, and it's our decades old family recipe that has put Chorizo De San Manuel on the map.

Different Types Of Chorizo

Although pork chorizo is our customer's favorite type of Mexican chorizo, we offer several variations. Some recipes will have a different taste based on the chorizo you choose as well. We offer Beef, Pork, Chicken, and our San Luis chorizo! These different types of chorizo are all variants of the Mexican style chorizo, which is very popular within the U.S., and are available at local grocery stores, including some H-E-B locations! 

Chorizo Is Affordable 

Currently, many people are meal prepping and stocking up on supplies and food. So it's up to consumers to acknowledge what is in demand and what isn't. Meat, toilet paper, water, and sanitation supplies are just a few of the items most common. Chorizo, however, isn't all that expensive, yet there is plenty to go around. Not only is our manufacturing plant local, but we ship our products nationwide! In this case, you can use Chorizo as a substitute protein in most dishes. 
5 Ways To Enjoy Our Mexican Chorizo
1. Chorizo With Eggs
The best and most common way to eat Chorizo is with eggs during breakfast time, but typically many Hispanic Americans enjoy eating it around dinnertime as well. Just cook your Chorizo well, add some eggs, mix until well-cooked, then serve. 
2. Mexican Chorizo With Baked Potato
One way of eating Chorizo is on top of a Baked Potato. The most common toppings for a Baked Potato are cheese, butter, sour cream, salt and pepper, and bacon. You can substitute the bacon with Chorizo and you'd have another perfect dish to enjoy at home.

3. Chorizo With Chips
Another way to eat chorizo is with chips. Cook your Chorizo, and while it's hot, add some cheese, onions, tomato, and jalapeño, and serve it as a dip for chips! 
4. Chorizo With Potatoes
Another common way to eat Chorizo is with cut pieces of potato. Simply cut some potatoes into cubes, cook them thoroughly in a pan until soft, then add your chorizo. Our adds a punch of flavor! You can also eat this as a taco! 
5. Chorizo Tacos
Tacos are the most popular way to eat anything, so it is no different to use Chorizo as a substitute for common proteins such as beef or chicken! BY THE WAY, we offer Chicken chorizo, beef chorizo, and pork chorizo! Just cook your Chorizo of choice, then cut some tomato, onions, and cilantro and serve over your favorite tortillas.
Mexican Chorizo Possibilities are Endless!
It's plain to see just how easily you can use our Mexican chorizo brands within a weeks worth of meal prep! 
It can be used in side dishes
It is available at your local HEB and grocery stores.
We even offer special packages with our Mexican chorizo and prime steaks!
Buy Chorizo Online Today!
Order chorizo online and prep your next meals! Chorizo De San Manuel is affordable and satisfying, why not try some yourself, and try a new chorizo recipe today.