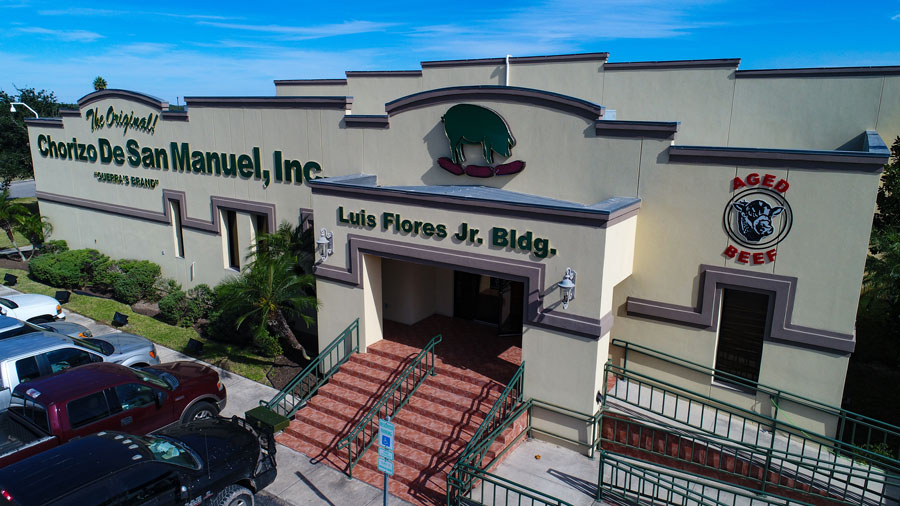 07 Feb

Our Best Chorizo Brand and 3 Facts You Need to Know

Our family has been making the best chorizo brand, or Mexican-style sausage, since 1975 in San Manuel, Texas, which is how we got our name: Chorizo de San Manuel! Our Mexican chorizo recipe was created by Adolfo "Shorty" Guerra just after WWII in his convenience store located off Expressway 281 just north of Edinburg.
Early Beginning of the Best Chorizo Brand
Guerra sold the product by the link and pound. One person who worked at the store was San Manuel native Luis Flores, Jr., who stocked shelves, pumped gas, and kept the place clean.
His hard work paid off because, in 1975, Shorty retired and sold the grocery store to Luis. The recipe came with the store, which is why, to this day, packages are named "Guerra's Brand" in honor of Adolfo.

Our Mexican Chorizo is Authentic
Our chorizo is 100% all-natural. We only use top-quality pork (specifically the pork shoulder), vinegar, salt, garlic, and our secret blend of spices to create our product.
We don't use any artificial colors, artificial flavors, additives, or preservatives!

Our Chorizo is Easy to Cook
First, add our chorizo to a shallow skillet over medium heat to cook for about eight minutes. Now, there are many ways to enjoy our chorizo, as you'll see in our chorizo recipes section, but generally speaking, customers mix it with eggs. We suggest adding three to four eggs per 12-ounce package served with either flour or corn tortillas. You can always find this recipe on the back of all Guerra Brand chorizo packages.
Try the Best Chorizo Brand Today!
For over 40 years, Chorizo de San Manuel has been serving Texans with some of the best chorizo, steaks, and seasoning on the market. You can find our chorizo and sausages at many H-E-B's, Walmart's, and grocery stores across the state. Order our chorizo online or reach out to us for more information about our products!