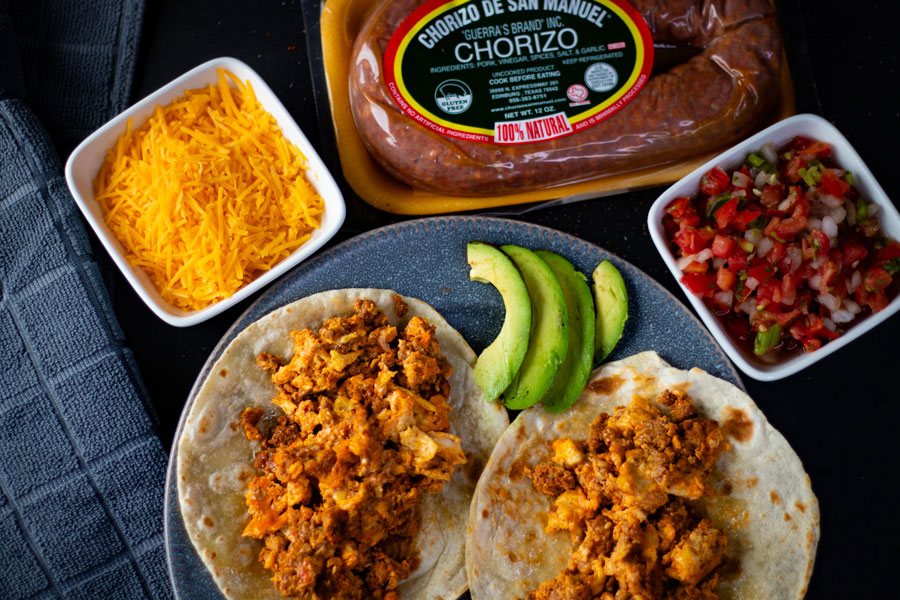 27 Mar

3 Tasty Reasons to Use Our Authentic Mexican Chorizo

Looking for uniqueness in flavor, texture, and versatility all in one ingredient? Chorizo De San Manuel's authentic Mexican chorizo is the best addition, but were you aware that both Spanish and Mexican chorizo exist? Don't get them confused, they are drastically different in texture. 

Below we share three of the reasons you will want to use our Mexican chorizo as the main dish or as a crumbly addition.
Mexican Chorizo is Finely Crafted
Chorizo, is somewhat similar to sausage in terms of the types of meat used and mixed together to create a consistent flavor throughout. However, Mexican chorizo can be diversified into specific types. This authentic recipe can be made into:
Pork chorizo
Beef chorizo
Chicken chorizo
And our San Luis chorizo
Mexican Chorizo Has Historical Roots
Chorizo is used in various ways throughout central and south America regions. Mexican chorizo has:
Origins of chorizo date back to the Spanish conquest of the Aztec empire.

 

Supposedly been around for some time – in the year 1519-1525, chorizo was already a very popular dish in Spain.

 

It is believed, that Spanish conquistador Hernan Cortes and his soldiers began raising pigs in order to produce chorizo as a natural delicacy in Mexico during his first tour of the country.

 
Mexican Chorizo vs Spanish Chorizo
There may be some historical influence of chorizo between Spain and Mexico, however their chorizos are different. Both are seasoned, and can have a vibrant red color depending on the ingredients used. The most common types of chorizos are Mexican and Spanish, both of which have distinct differences in their preparations and seasonings.  
Mexican Chorizo
Mexican chorizo is made fresh and uses finely mixed meat, typically made with pork, but can also have alternatives. Mexican chorizo is:
Sold fresh and must be cooked before consuming.
Bought loose or kept in a natural casing and broken later, or you can cook the links whole.
Is very versatile and can be used in dishes such as tacos, burgers, egg dishes, and other various dishes.
Spanish Chorizo
While similar to Mexican chorizo, Spanish chorizo gets its reddish color from a different source. The meat used for Spanish chorizo is chopped and mixed with paprika and other spices. The paprika used for the sausage is either spicy or mild. Spanish chorizo can be:
Sold cured and or smoked.
Fully cooked and has a hard, firm texture.
Sliced and eaten as a snack and is popular for charcuterie boards.
Commonly used as a flavor base for stews and rice dishes like paella.
Why Choose Authentic Mexican Chorizo?
Chorizo De San Manuel is a family-owned company for nearly over 30 years! We are dedicated to bringing our customers the best in quality and quantity.  All of our authentic Mexican chorizo:
Has a different style, texture, and flavor.

 

Mexican chorizo can be used in a variety of ways Spanish chorizo cannot.
Each chorizo is carefully prepared and packaged to preserve their bold flavors.

 

When you remove them from their casing and start to cook them, not only will the delicious aroma.
Nothing tastes better than the real thing, so place an online order today or look for our Mexican chorizo at one of the many locations they're sold! If you don't see them in your grocery store, tell them you want Chorizo de San Manuel!
Order Mexican Chorizo Online
Customer satisfaction is our main focus, this is why shipping is available on all of our products. We ship anywhere and everywhere, with fast and easy shipping on all of our available products online. Order chorizo online.