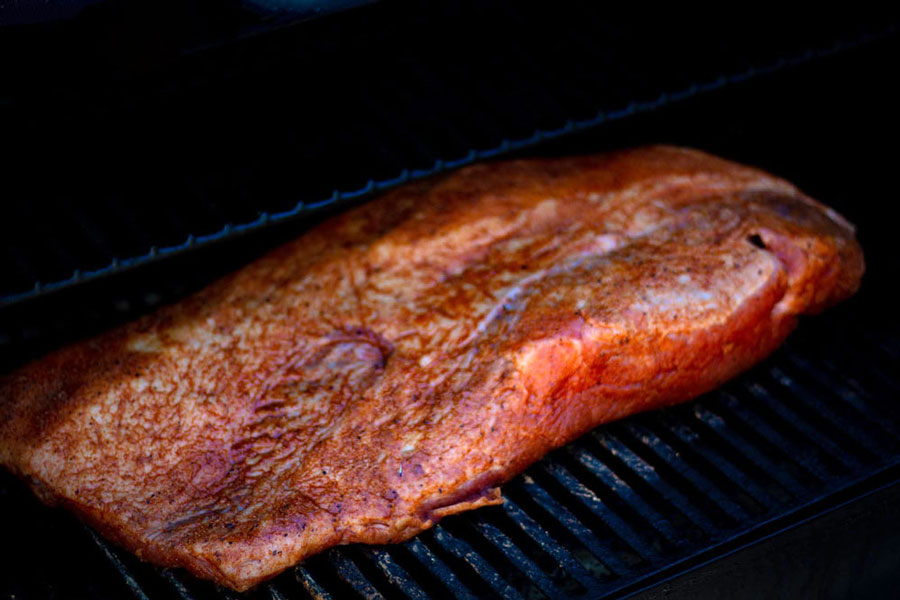 23 Apr

How You Should Smoke Our Signature Creekstone Prime Brisket!

Summer's almost here, so fire up the grill! Prime ribeyes and marinated beef fajitas are excellent choices for a barbecue, but if you'd like something different, then the ultimate treat is smoked brisket. If you aren't sure how to cook one, then Chorizo de San Manuel wants to provide a step-by-step guide on smoking our signature Creekstone Prime Brisket!
Preparation
To prepare the brisket, we suggest following award-winning pitmaster Aaron Franklin's method where "every bite should taste like smoke and the natural flavor of the beef." 
For the rub, you'll need:
Half a cup of mixed kosher salt and black pepper
Two cups of mustard or hot sauce
For directions:
Start with the fat side down and generously apply the mustard or hot sauce to both sides.
Next, shake the rub across the meat with one hand while patting the seasoning on. The rub should be spread evenly across the entire cut.

 

Repeat for the other side and let the brisket sit at room temperature for 30 to 40 minutes.

 
The Perfect Flame
As the brisket sits, get your pit ready. A mesquite wood-burning fire is preferred so the meat absorbs the wood's flavor. Maintain a temperature of 255°F. Put the brisket into the smoker with the pointed end of the meat sitting closer to the fire and shut the lid.  
Cooking Our Brisket
Cooking our brisket is a long process that can take about 12 hours, depending on how much the meat weighs. For the first three hours, cook it undisturbed with the lid closed while maintaining the 255°F temperature. 
After three hours, raise the heat to around 260°F to 265°F, and with a spray bottle, spray the dryer edges of the meat with water to cool it off. Continue to check on the meat and spray with water once every hour. After six hours, the meat's internal temperature should reach about 165°F. Raise the temperature to around 280°F to 285°F for one hour. 
If the meat bends at the edges, then it's loosening up. Wrap the brisket in foil, point it closer to the fire, and cook for another three hours at 275°F to 285°F. After these three hours, check it for tenderness every 15 minutes as the tissue will break down and soften up. If the brisket feels loose and almost flexible, then it's ready. Remove it, and allow it to sit wrapped in foil until the internal temperature reaches 140°F to 150°F. This can take a couple of hours. When it's ready, cut against the grain. 
Get the Perfect Brisket with Us!
Order our brisket or any prime beef products with our curbside delivery, or order online and we'll have it shipped to your door with our nationwide shipping. Contact us today for more info about our products!